Hits: 414
As of October 1, 2019, ELibUkr project members who have joined the test, will have access for one month to the multidisciplinary license database - EBSCO.
Hits: 102
On September 19th, the presentation of the project Ukrainian quality portal for higher education quality assurance took place.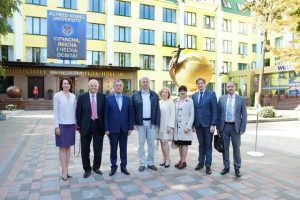 Read more: Ukrainian quality assurance e.service for education
Hits: 420
ELibUkr invites its participants to apply for test access to the multidisciplinary database EBSCO (EP Package Standard).
Read more: Test access to EBSCO for ELibUkr project participants
Hits: 98
On the importance of quality assurance in education - in the article by Member of the ELibUkr Supervisory Board, Head of the National Agency for Quality Assurance in Higher Education, Serhii Kvit: "What awaits Ukrainian universities?"
Hits: 583
Dear participants of the ELibUkr project, we sincerely thank everyone who had filled in the questionnaire and updated information about your university as a member of the ELibUkr project. We sincerely invite those who forgot or did not have time - to do this. Otherwise the absence of a questionnaire by August 1 will mean that your university is not interested in further participating in the project. Once again we sincerely thank those who stay with us (and filled out the questionnaire). The questionnaire can still be found here: https://cutt.ly/OT63NY